I want to say THANK YOU to someone very special to me. I met him through my website and he has become more than a member/fan of my site, but a true friend of mine who I simply adore. I am collect the tabs from soda cans for the Ronald McDonald House. My son's girlfriends 3 1/2 year old cousin was recently diagnosed with Kidney Cancer and this is just a very small way that I can help. Ronald McDonald House collects the tabs for the Phoenix Children's Hospital and they are recycled and the funds collected is used to cover some of the overhead cost of running the facility.. Anyway, my dear friend Patrick sent me this package Friday.. of course the stockings and Victoria's Secret Gift Card are for me, hehe..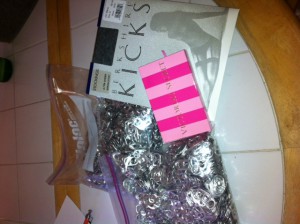 If anyone else would like to save the tabs and send them to me that would be AWESOME, just email me for information.
Hope you all are having an amazing weekend.
Hugs & Kisses,
DM
http://www.dawnmariesdream.com