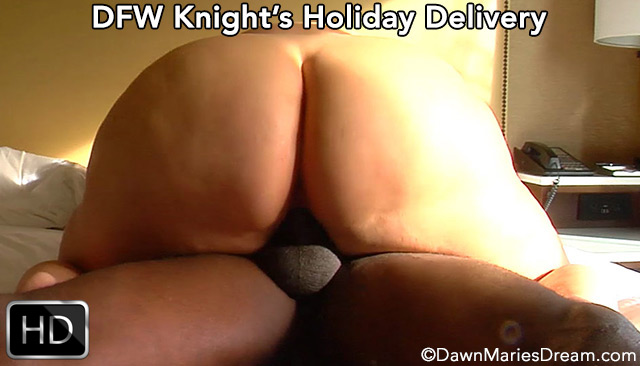 Title: DFW Knight's Holiday Delivery
Length: 26 mins.
Size: 1920 x 1080 – Full HD
Compatibility: MP4 – Works on all devices
Keywords: interracial, dfw knight, blowjob, fucking, booty, riding cock, hook up, cumshot, creampie, milf, slut wife, bbc, big tits, big ass
Description: DFW Knight Delivers Me a Messy Creampie! – 1080p HD Video I received a message from DFWKnight that he was coming to town and wanted to know if I would be available to see him. So I moved a few things around and made plans to meet him. If you follow either one of us, you know we have met just a few times before and this one was just as hot!! Luckily he likes to kiss and make out as much as I do and that always gets things heated and leads to clothes coming off. Now it might just be me, but I think he likes the way I suck his big cock. And I like the way I can make him so hard with my mouth and hands and I like how wet he makes me, VBEG. Let's face it, I need the wetness to help slide that big cock inside me. So check out this update and watch him slide his big cock inside me and fuck me until he comes deep inside my pussy with a messy creampie.