This week we had a girl scheduled to do our BlowBang and she cancelled the night before the shoot. Brooke showed up on the Red Carpet to fill in and she was great. She wore a cute little pink romper and she looked all innocent, no one would have guessed she was coming to blow 8 guys. When we started shooting, you could tell Brooke was nervous, but once she got started she was into it. You can see her trying to dodge the cum shots, but the guys step giving her load after load. She got quite the mess from our guys!!
Ok, the question I have is why do none of these girls have a gag reflex? So many of the girls we shoot have none, the take some pretty large cocks deep without gagging in the slightest.
Check out Brooke's visit on the Red Carpet for www.blowbanggirls.com If you like it messy, you will like this one.
Dawn Marie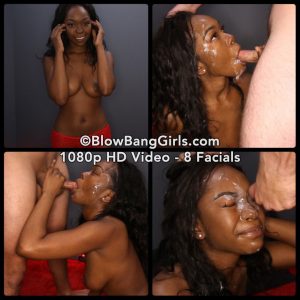 `