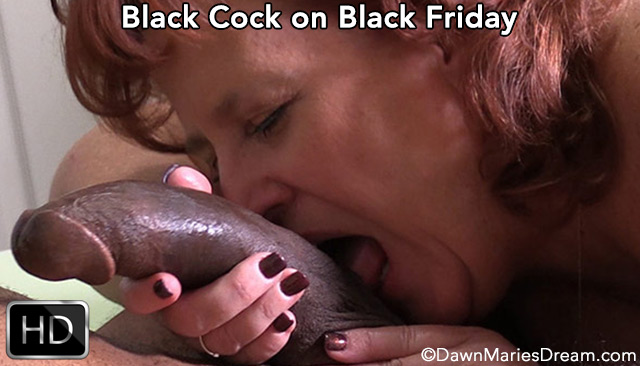 Title: Black Cock on Black Friday!
Length: 19 mins.
Size: 1920 x 1080 – Full HD
Compatibility: MP4 – Works on all devices
Keywords: interracial, blowjob, bbc, fucking, cumshot, facial, milf, slut wife, glasses
Description: For Black Friday I decided to go black … literally! I invited my buddy Dave over on Wednesday! Some BBC fun with him in the midst of cooking and preparing our family's Thanksgiving Day meal was a much-needed break! I am wearing blue jeans in this shoot to start as I was working around the house when Dave showed up. Not going to beat around the bush on this write up. Dave and I go into our guest room and we get busy in a hurry. We start out with some sexy kissing and then quickly progress to me sucking his cock. He eats my pussy out until I cum. He bends me over on the bed and fucks me from behind, so you get to see my big ass bouncing! Finally, at the end I go back to sucking his cock and balls until he cums on my face and I clean up the cum on his cock!