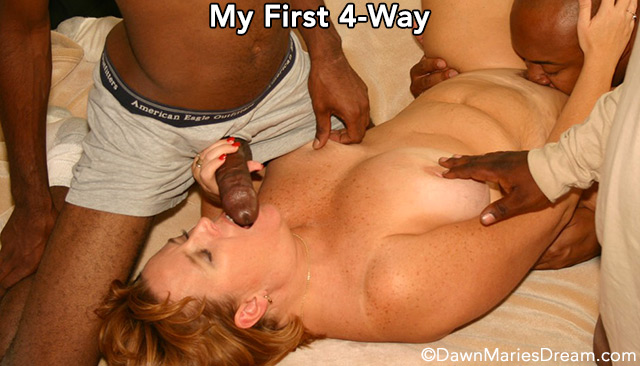 Title: My First 4-Way
Length: 41 mins.
Size: 640 x 480
Compatibility: MP4 – Works on all devices
Keywords: group sex, blowjobs, fucking, cowgirl, booty, interracial, cumshots, milf, slut wife, big tits
Description: So if you know me and followed me over the years this has been something I've been trying to pull together for a long time! Well I can't believe it finally happened … as I prepared for their arrival I just couldn't help myself. I had to get naked and show you all my wetness.
You WON'T BELIEVE IT … but it finally happened for me! 3 Big Hung Black men in bed with me all at one time! I have tried to do this over the years many times but for one reason or another it never worked out .. well this time it did! I didn't know what to do with 3 cocks at once and WOW were these guys really good .. they each came on me 2 times .. so that's 6 hands … 3 cocks .. 6 cum shots and holy cow what a fun way to spend an afternoon. I'm not going to beat around the bush on this one guys .. it was one pure orgasmic afternoon of pure XXX sex and me being a naughty wife.